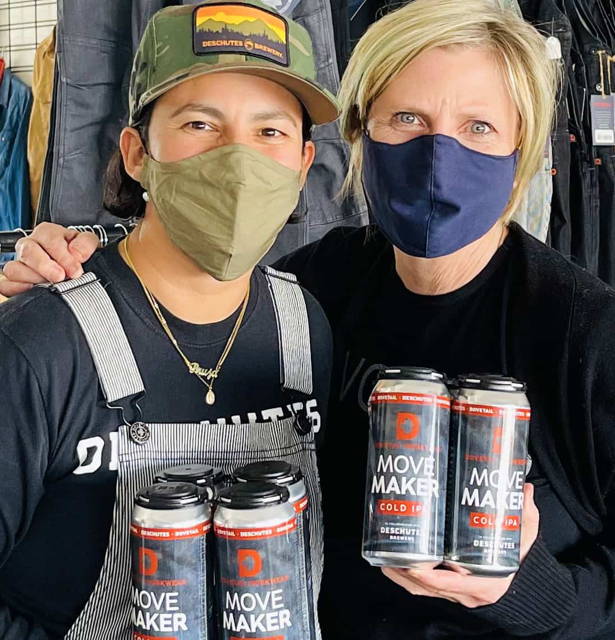 Veronica Vega, Director of Product Development, Deschutes Brewery; Sara DeLuca, Director of Product Development, Dovetail Workwear
Pull up a stool and sit with us at the bar, while we chat with our own Sara DeLuca and brewer Veronica Vega. What are we drinking? Move Maker Cold IPA, a collab brewed up by Deschutes and Dovetail Workwear, to benefit the Pink Boots Society.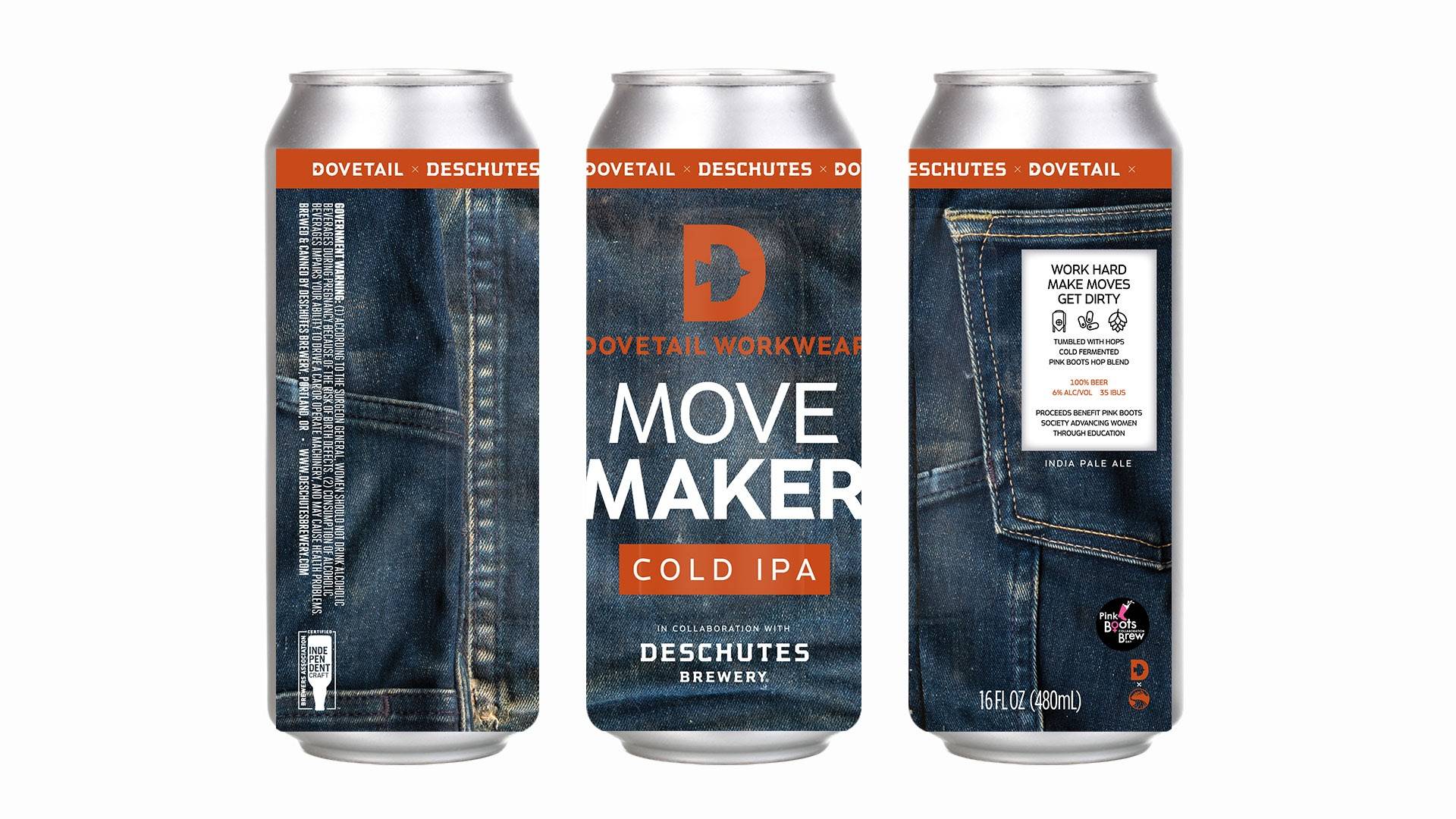 Sara DeLuca, last we checked we make pants, not beer. Explain.
SD: We make apparel, but what we're really trying to make at Dovetail, is change. We built our clothes out of need, serving hardworking women who had been overlooked. Along the way, we're meeting amazing women who are the movers and changers in their industries. Women like Veronica, and the Pink Boots Society.

Veronica Vega, tell us about the Pink Boots Society.
VV: Pink Boots is a nonprofit whose mission is to support women professionals in the fermented/alcoholic beverage industry. So that's anyone from beer brewers and distillers to women who make kombucha, hop farmers, servers, and anyone in the BevAlc biz. I've been a member of Pink Boots for years. There are 70 + chapters across the US. It's all about women building community and supporting each other. Every year there is a collaboration brew with a special Pink Boots hop blend made by Yakima Chief Hops. Hundreds of brews happen at chapters across the country—and some international—and they all benefit the Pink Boots scholarship fund.

SD: It's that spirit of collaboration that fills my cup pint glass. All these women making beer together to help each other! I've been a big admirer of Pink Boots since Dovetail began. So we put our heads together and decided to make a beer to celebrate sisterhood. Deschutes jumped right in to support the initiative.

What does Move Maker taste like?
VV: *sips* Crisp. Not too bitter. Refreshing. Approachable. We blended an IPA and a lager for Move Maker. The style is a Cold IPA. Move Maker is the first of this style to be packaged by Deschutes.
So the beer itself is a bit of a changemaker
VV: Yes! This is more of an experimental beer for Deschutes. Also, it's made with the proprietary Pink Boots hop blend, so that's something unique.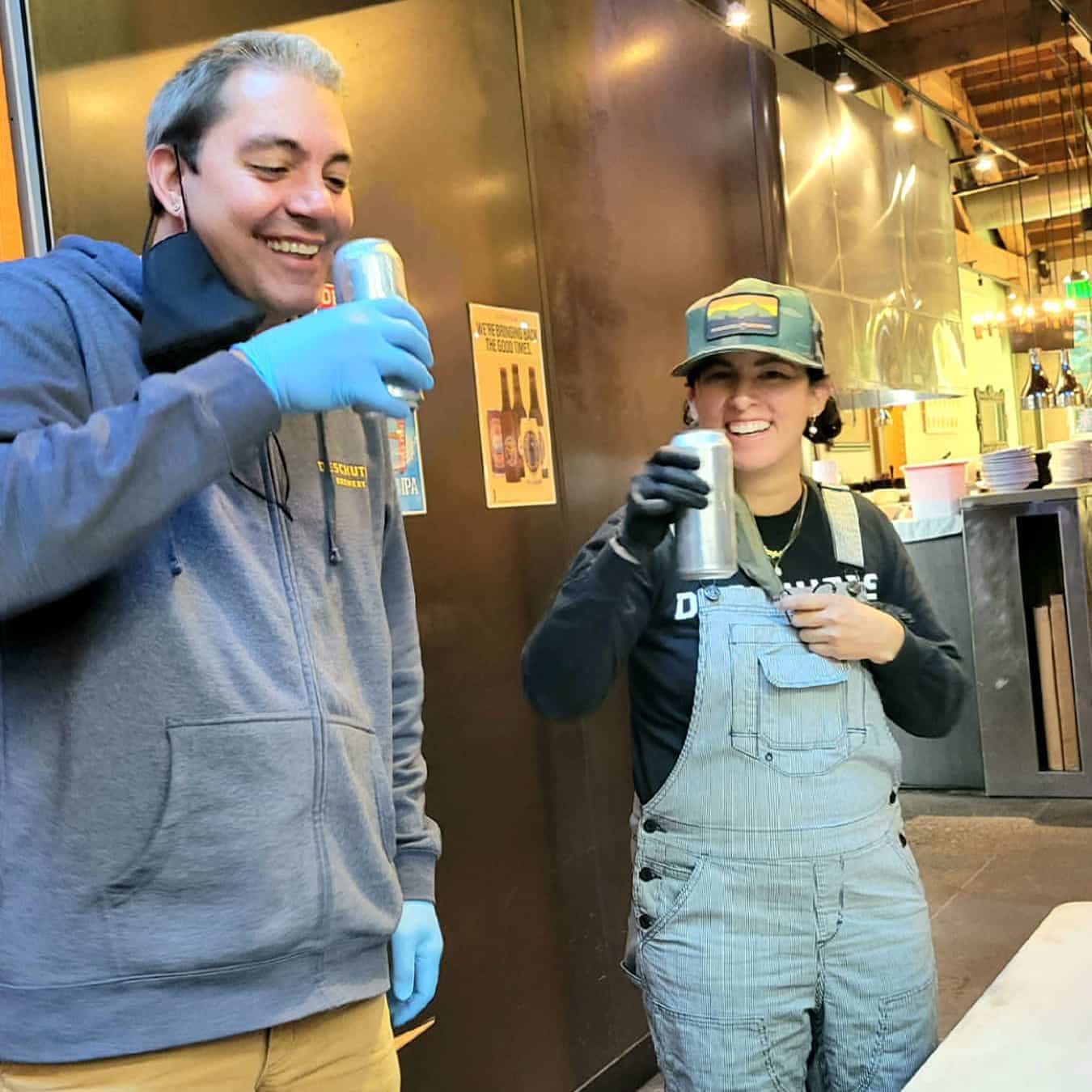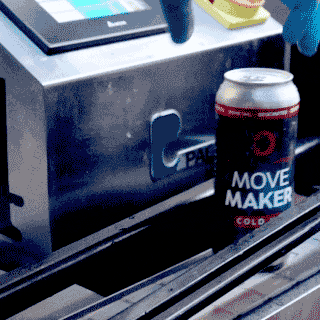 Above: cans are ready for packaging! But first, Veronica and Deschutes Portland head brewer Jake take a celebratory sip as per canning day tradition.
Sara, what moves did Dovetail make to bring this beer into being?
SD: We've got this radass community (who are reading this interview!) We don't make any major moves without consulting our weartesters and customers and getting their feedback, so we opened the floor across all our social channels to Veronica and she asked all our people: if Dovetail was a beer, what would it be?
VV: While we had a ton of unique ideas spring forward, we heard a couple of themes: refreshing, hoppy, maybe a lager, an IPA? Janine, a Dovetail customer, suggested "The Denim" IPA: a reliable go-to beer. A beer you love as much as your favorite pair of jeans. Paloma, another Dovetail customer—who also happens to be a brewer—talked about the beer you want to drink after a hard day's work.
I grabbed Paloma and pulled her in with a group of other women brewers, and the recipe was born. We ended up moving the name and concept along into Move Maker Cold IPA. I fell in love with the name immediately and it rolls off the bartender's tongue (an important consideration). The packaging brings the denim in. I'm really proud of the result.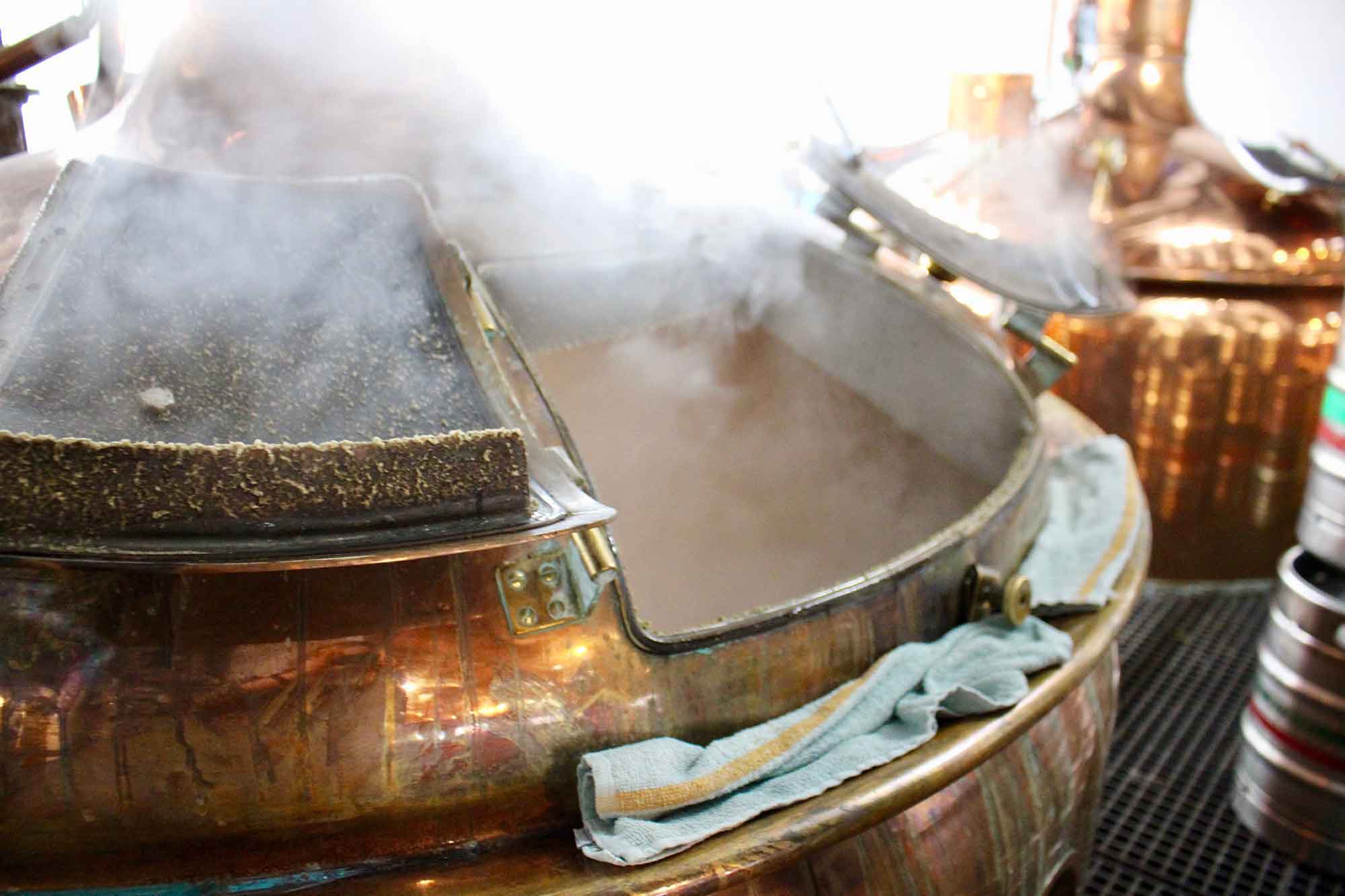 Above: a peek into the Move Maker brewing process.
It was fantastic working with Dovetail. We learned so much by using your process, which is about involving women at every step, when creating a product that is meant for them. The beer industry is not known for putting women first. Dovetail always puts women first.
Sara, you're a major beer lover. You even got married in a brewery. What do you think of Move Maker?
SD: Yes, I'm very into my beer. Typically, I love a hazy IPA. But not as much as I love Move Maker Cold IPA. It tastes like Dovetail! And like a job well done. Deschutes also super came through for us on this. They are donating all proceeds from this beer to Pink Boots Society. Deschutes is our kind of people. They live out their values.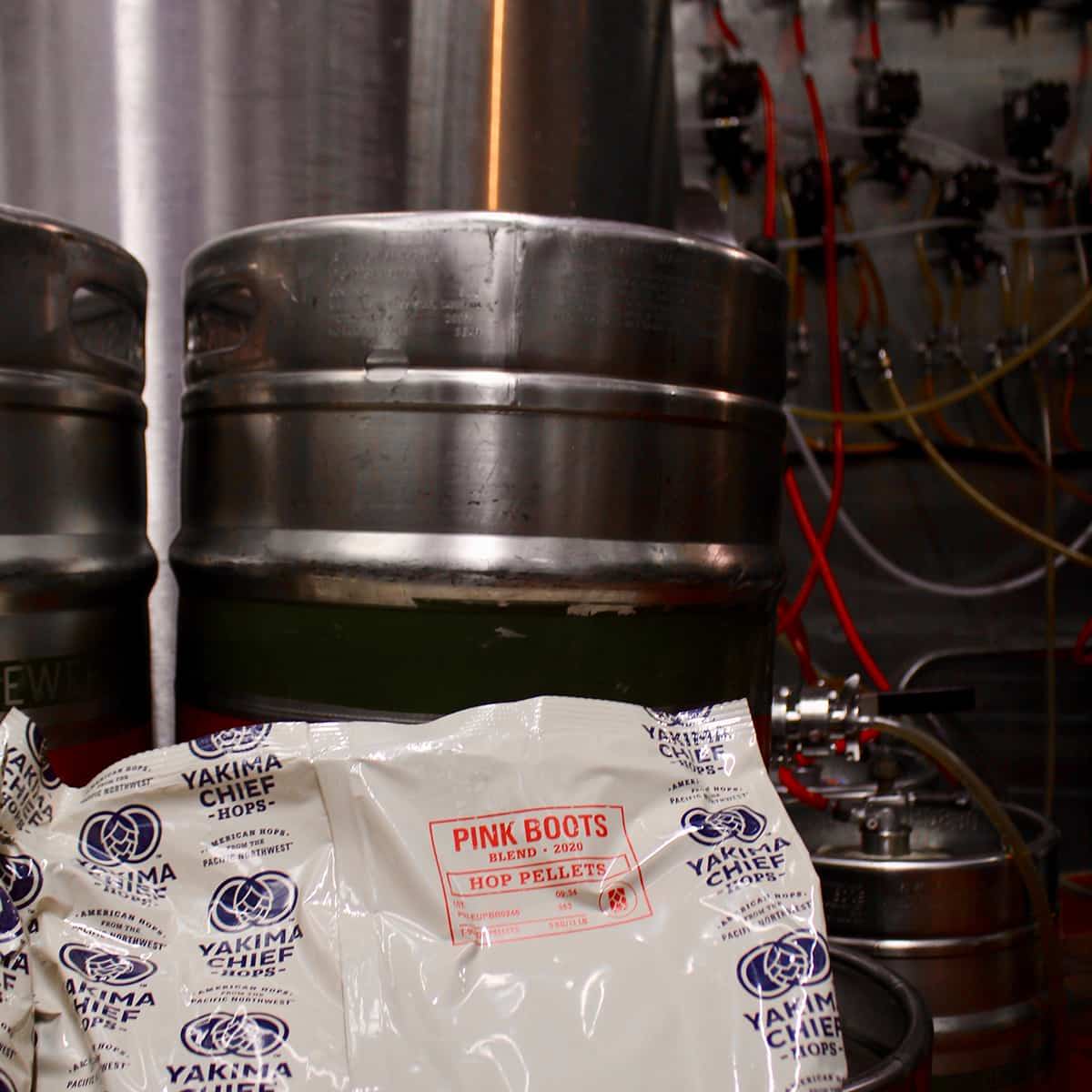 Above: The proprietary Pink Boots Society hop pellets used in the Move Maker Cold Pressed IPA
Speaking of values, the beer industry has recently gone through a reckoning, prompted by accusations of sexism from female professionals. Can you tell us a bit about that from your experience, Veronica?
This is not an industry known for its inclusivity. I've been in the industry for 15 years. I've attended countless events and more often than not, it's a sea of men. It was so impactful when I went to my first Pink Boots national meeting at the Craft Brewers Conference and walked into a room full of women. I thought, "So this is what the guys feel like!"
With the craft beer industry looking closely at its record right now—thanks to a lot of brave women—I feel fortunate to work at a brewery that takes these issues seriously. We've been doing a lot of DEI work. Deschutes has already made a number of changes, down to the details of job titles as well as job descriptions and hiring and recruiting practices. For example, my previous title here was "brewmaster" and I've always had some issues with that term. I was proud of earning it, but it also has this aura of untouchable mastery of subject to me. I struggled with feeling I was worthy. The brewmasters I knew of were all famous men. At Deschutes, we've been doing a lot of work around this and asking ourselves: Are we inviting women in? Is our terminology driving women away? I think we are making meaningful changes by scrutinizing all aspects of our work culture. Move Maker is a move in the right direction too.
Veronica, what's it like to make beer? Is this dirty work?
Heck, yeah. Your Freshleys get covered in malt dust and sticky hop particulate. You're lifting 50 lb bags, driving a forklift, carrying hoses. It's loud in the brewhouse and in the production brewery. Folks have to wear ear plugs and eye protection. It's stinky, sticky, dirty work—it's dynamic and challenging.
Sara, you look so happy.
SD: I love hearing about the world of brewing and finding the connections between what Veronica and her peers do and our world. That sense of craft, the attention to process, the selection of quality materials….We're all doing the same thing, just with different substrates. This is why my job is a dream. I get to meet women like Veronica and talk to her over a beer about her work! *falls off barstool out of sheer joy*
Veronica, do you remember your first beer?
VV: My first craft beer, for sure. My family is Mexican-American, so we always had Tecate in the fridge. But Sierra Nevada Porter was my first craft beer love. I loved the richness and flavor. I remember being at college and camping. Sitting with my cheese, salami, beer, my dog, I felt like I'd arrived.
What does your family think of the beer you make?
They love it. Especially my mom.
Where can I get it??
This small batch beer will launch in 4 pack 16-ounce cans and on draft on October 1 at Deschutes owned and operated establishments in Bend and Portland, Oregon and Roanoke, Virginia.

All proceeds from Move Maker Cold IPA will be donated to Pink Boots Society.
Now when you shop at our site, you can donate to Pink Boots at the checkout.
Quench your thirst for more things beer @deschutesbrewery and @pinkbootssociety